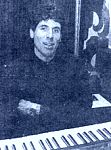 THE RECORD
Singer wants political voice heard
by Kristen Schweiser
FALLSBURG
As a voter, Louis Landon feels he has no voice.
As a resident of New York state, he says he's fed up with politics as usual.
Especially when it comes to important issues such as casino gambling, which he gripes never even came near a public vote because the state Senate gave the bill a thumbs down.
Yet, in his own way, Landon a composer, pianist, and singer at the Raleigh Hotel, is making his voice heard. Starting Monday, his latest tune, "
Donald Trump Can Kiss My Butt
," will hit the airways when WSUL starts playing it in the morning.
Against a backdrop of jazzy guitar licks and keyboard notes, the song's lyrics recite Landon's retort to the state Senate's recent vote against, legalizing casino gambling in parts of New York state, namely Sullivan County and Niagara Falls.
The subject of his angst: The Donald himself, who Landon lambastes for spending massive amounts on lobbyists to help sway the Senate's decision against gaming, 41-19
"(Trump's) ego and money is a big part of why gambling didn't happen here - and now we're in bad shape," said Landon
He believes that in the wake of the failed casino bill, places that once boomed with business, like the Catskills and Niagara Falls, are headed downhill.
This past weekend, the Raleigh Hotel was a flashback of memories.
Inside the lounge, couples danced, tourists drink and vendors peddled their goods. Behind the crowds, Landon belted out a jazzy tune, sitting at his keyboard.
Finishing a set with his band, he strode to the bar, grabbed a juice and pulled a set of headphones over his ears and rewound the tape to his latest song.
"We're stuck now. We can't complete with Atlantic City and Foxwoods - money is just pouring out of this state," said Landon.
A report filed last month by Trump Castle Casino showed $900,000 was spent on lobbying fees. Recently, Trump himself was listed in papers filed with the State as a lobbyist, which prompted an inquiry into Trump's activities by the state Lobbying Commission. Trump is not registered as a lobbyist and if the Lobbying Commissions finds him acted improperly, it can penalize him to the tune of $5,000.
In the last phrase of the
song
, Landon writes about Trump helping raise money for Pataki. According to the Palm Beach Post, Gov. George Pataki took a trip to Trump's Mar-a-lago club in Florida to speak to a group that included John F. Kennedy Jr., in March 1996.
Since composing the song, Landon said he sent the lyrics to radio stations in Buffalo, Albany and Poughkeepsie.
"I don't see any other answers here - this is bad, this is beyond bad," said Landon, who hopes his song inspires people everywhere to lobby their legislators so they can vote in the future on key issues such as welfare, unemployment and Medicare.
A musician for the past 30 years, Landon said he wrote the
Trump song
a week ago, in just 15 minutes.
Assemblyman Jake Gunther, D-C Forestburgh, who sponsored the legislation that Trump helped defeat, likes Landon's song.
"I can't wait to hear it with music," Gunther said.
Back to Press